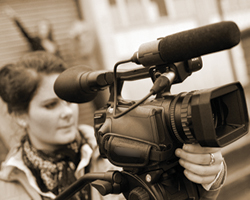 Journalism without training is like horse riding without practice. You tend to fall every now and then. And each time the fall hurts more. Keeping all these thoughts in mind, I joined a short course on media in the South Asian Free Media Association last December, which lasted two months.
Our class was quite diverse --a few journalists, students, housewives, one retired officer and one student leader who couldn't stay away from his female class fellows.
The first few weeks were smooth. We had classes and lectures, sat in the safety of the class, looking attentive and occasionally asking a sharp question. Luminaries of journalism like Khaled Ahmed on current affairs, Arif Nizami on changing trends in journalism, Hassan Askari Rizvi on political reporting, Seemi Raheal on gender bias in journalism and Iftikhar Ahmad among many others came to lecture us.
In the fourth week, an advertising guru who came to teach us technical aspects of the camera work, divided us into three groups and assigned us a 3 minute long film each. We were supposed to have a story, act, direct and record it. The story we coined was about an imaginary fellow student forced to steal mobile phones due to financial constraint, how we discover her stealing and help her out. The thief was played by me, but we forgot to shoot the confession scene on the shooting day. By the time we realised this mistake, the week with the advertising guru was over (along with my hopes for an acting career).
Three weeks before the course ended, Sharmini Boyle, a Sri Lankan producer for the last thirty years, joined from Colombo to train us. On the first day she divided us into four groups and sent us all to get walk pops on a current issue. Punjab was about to get a new governor and we questioned some twenty people if they knew who the new Governor was. Most people did not know the new Governor; those who knew couldn't name him. I held the mike in the first ten or so vox pop. Afterwards when my turn was over, it was time to relax. I took a stroll, bought some corn, quarreled over the price and even bought some socks from a vendor.
The next day when the video was reviewed, the first half was relatively smooth (if you ignore the two instances I was waving violently at my crew to stay quiet).The second part, in which I didn't compere, was a disaster. In background, roaming around the street in a space jacket and goggles was none other than me -- first buying the corn and squabbling with a pathan and eventually buying socks. I could hear myself bargain and the whole class in a fit of laughter. There was little doubt left on how aloof and huge my screen presence was, especially when quarrelling with street vendors.
The next assignment with Sharmini was a small, 3 minute documentary. Each group was to pick its own topic and we were silly enough to pick up a broad and difficult theme the "Impact of terrorism on the entertainment industry."
The shooting day was fun. We got to meet Usman Peerzada, the creator of the website danka.com with his four cats and guitars and finally a stage director. But the post shooting scenario was chaotic. We came back with a seventy minute footage for the 3 minute movie, had deviated from the script and forgotten to write down the shot sequence. After much effort and scolding, the movie was salvaged to some extent.
In the last week, we went to a private news channel, just to get the feel of how things are there. The building was innovative and tech savvy but somehow much smaller than we had anticipated, especially the news room. The sets were sound proof, well-lit and full of energy. In the distance, a newsreader was about to go on air with the bulletin, so they hushed us out.
Zulfiqar Khosa was the chief guest in the concluding ceremony, in which Khaled Ahmed, who was the course director, also spoke. Khosa was in a hurry and didn't pay much attention to our short films. Mercifully, the vox pops were not screened. But to give us cold feet, the advertising guru was there, giving us meaningful glances. Before he could summon our art pieces, we all vanished through the back door.